DOCUMENTS
After you are registered by the Agency for Refugees as an alien seeking protection in Bulgaria, you must hand in all your national documents available. In exchange for them, within 3 days you must receive a registration card which will be your document throughout the procedure.
Several days after being registered as an asylum-seeker you will receive your registration card which looks like that: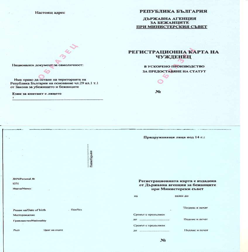 The card contains the following data:
name and a photograph
date of birth
sex (man or woman)
place of birth
nationality (citizenship)
accompanying children aged under 14
your personal number in Bulgaria
the address of your accommodation in Bulgaria – a refugee camp or accommodation outside the camps
the area surrounding the camp in which you are allowed to move without the explicit permission of the Agency for Refugees.
This card serves to certify before the Bulgarian authorities that you are an asylum-seeker and are entitled to stay in Bulgaria till the procedure is completed with a decision on your case.
The registration card is a temporary document. The card usually has a 3-month term of validity which can be renewed without any problems while the procedure is still underway and till the decision on your case becomes final. This means that the registration card can also be renewed during court procedures.
The registration card is valid while you are in the asylum procedure and is usually issued with a 3-month term of validity. If your procedure has not been completed, and the term of validity will expire soon, you have to go to the Agency for Refugees where the term will be extended.
If you want to change your address, before doing so you have to ask permission from the Agency for Refugees which will enter your new address on the card so that you would not get in trouble in case the police check your documents.
The registration card allows you to legally reside in Bulgaria while being in the procedure. You have to show it when the police stop you for a check, as well as when you go to state institutions, the court or a healthcare establishment for treatment.
The registration card allows you to work after 3 months from your registration at the Agency for Refugees. The Agency will issue a work permit for you, if you request it.
The registration card does not enable you to:
visit the border areas or leave Bulgaria;
contract a marriage;
open a bank account and receive cash transfers.